NEW MONEY is a long-form discussion of trends and macro events related to Bitcoin, Money and Digital Assets, published by Adam Pokornicky of DAIM Digital, a Registered Investment Advisor for Bitcoin and Digital Assets. Opinions are my own. Twitter: @callmethebear
---
The month of August was a continuation of bullish behavior from the prior 4 months. Bitcoin briefly touched $12,500 before ending the month up 3%. Ethereum topped out at $450, logging a 25% gain for the month, while many small-cap altcoins and DeFi(Decentralized Finance) related coins returned generous double-digit and triple-digit gains, helping many crypto index funds to return 7-10% for the month.
Performance
Back in late June of this year, we adjusted our model portfolio and recommended a strategic adjustment for clients away from a Bitcoin-only investment allocation. Since that adjustment, our model portfolio has returned an additional 13% over that time period then solely being invested in Bitcoin. We're really proud of that.
As Investment Advisors, our objective is not only to help clients get invested in Bitcoin and access it through their retirement accounts but to optimize their investment so they can accumulate more Bitcoin than they started with. At times that means being 100% invested in Bitcoin when we expect Bitcoin dominance and outperformance, which had been our recommended allocation since opening DAiM in June 2018 until June of 2020. During this time, which was the majority of the bear market, Bitcoin significantly outperformed all majors and mid-cap digital assets significantly. On the other hand, there are moments like now as we enter a bull market where it makes sense to have opportunistic exposure to more risky large and mid-cap digital assets that we believe will outperform over the medium and long-term horizons.
By not being indexed or forced into a single strategy, DAiM offers clients a hybrid form of active management that is flexible, adaptable, prudent, and customizable. Our approach allows clients the option to follow our recommendations as we focus on helping them generate alpha and build wealth based on our understanding of trends, themes, market structure, and risk/reward. Our model portfolio is complemented by our lending program that allows clients to earn an additional 4-6% yield on their digital assets compounding daily while they wait, as well as our Partner Program that generously rewards clients who recommend friends, colleagues, and financial professionals to DAiM a share of fees. Through our yield and partner program, we've made investing through DAiM a positive carry investment.
Over the last 6 months, we have grown our AUM over 1000%. We've improved our onboarding flow, lowered IRA set up costs and trading fees, and launched interest/yield accounts. As demand for Bitcoin grows, we are positioned perfectly to help new individuals begin investing in Bitcoin and Digital Assets, especially using qualified retirement accounts.
I feel strongly saying that we are the Gold Standard in Investment Advisory and offering access to Bitcoin in your IRA and tax-advantaged accounts. Not only is our overall cost structure lower than anyone in our industry(and in most cases a positive carry), but competitors in our space have signed commercial deals with industry partners that specifically name DAiM as a firm they can't do business with. It's a testament to the business we've built and we feel absolutely flattered and proud that other firms see DAiM as such a serious threat that they need to target us specifically to try and hold us back.
If you are interested in investing with DAiM or would like to schedule a consultation to learn more, please tap the link below:
---
Big Product Announcement - 401k Plans w/ Bitcoin
We are proud to announce that we are launching the first-of-its-kind employer-sponsored 401k plans with Bitcoin at the end of the month. The demand that DAiM sees from individuals wanting to invest in their employer-sponsored 401k plan is off the charts but because of the plan rules and structures, we've never been able to help or provide an alternative option until now.
This is a major achievement for DAiM, our industry, and employers/employees across the country. I've been personally working on this initiative for over a year, executing a trial balloon last November and then working out all the record-keeping, administration, custody, connectivity, ERISA compliance, and portfolio options so that we can seamlessly offer any small/medium/large-sized business and/or solo entrepreneur the opportunity to have access to Bitcoin in their 401k plans which are often frustratingly limited and filled with conservative mutual funds and model portfolios that don't return much more than the rate of inflation after fees.
If you would like to learn more about how DAiM can help your business or your employer offer an employer-sponsored 401k plan with Bitcoin, please fill out the following form and we'll get in touch with you immediately!
---
Now to the main event. In this letter, I want to share a few thoughts about the case for Bitcoin and it's emergence as Gold 2.0, how to think about risk/risk-off and some of the noise the ecosystem revolves around, and lastly some speculative thoughts on the PayPal/Venmo announcement.
Bitcoin's Scarcity and Gold 2.0
Bitcoin is considered sound money because the supply of Bitcoin is fixed at 21mm units. This makes Bitcoin extremely scarce, relative to US Dollars, Euros, YEN, and other fiat currencies which can be created out of thin air in infinite amounts. Because there's a finite supply, once all of Bitcoin is issued, that's all there ever will be available. The price of Bitcoin is not linked to the US dollar, rather it is a function of supply and demand.
As humans, we naturally desire that in which is scarce, using scarcity heuristics to place a higher value on an object that is scarce, and a lower value on those that are in abundance. The simplest manifestation of the scarcity heuristic is the fear of losing access to a specific resource resulting from the possession of a small or diminishing quantity of the asset.
And while Bitcoin is the most scarce monetary asset on the planet, moreover, it's the world's first truly scarce digital object. While there are assets with limited quantity, like Gold and others that are digitalized, Bitcoin combines both in a world first.

The implications of that are considerable, to say the least. To put things in perspective, the race for one bitcoin has never been so uncertain, because of that same math.
Is Bitcoin becoming Gold 2.0?
I strongly believe in the case for both Bitcoin and Gold in an environment where money is forcibly being devalued by central bankers through money printing and intentional inflation to get us out of the crushing levels of debt we've accumulated globally. While many Bitcoiners throw shade towards Gold, I believe the price of Gold, especially a powerful breach of $2,000 will be a significant boon to Bitcoin, as more and more people become familiar with Gold, the store of value concept, and begin asking questions about money.
It's clear to me that most people don't understand how Bitcoin but they very much understand Gold. It's historical role and established trust over time is a narrative and conversation around "Store of value" that is much more easily understood by asset managers, investors, and Joe public. Gold powerfully breaching $2,000 will have an immensely positive effect on BTC, as dimwitted and mostly clueless media personalities will parrot the Gold Store-of-value narrative, filling the airwaves and educating the masses about Money and why investors are flocking to Gold. This will naturally open up a larger conversation about Bitcoin, how it's scarcity is similar to Gold in a world where fiat money is plentiful and produced infinitely.
While Bitcoin has had very little correlation to Gold or Risk assets over longer time periods, its correlation to Gold(as you can see below), equities, and risk assets, in general, has increased, as investors converge on the store of value/inflation hedge and the market more or less becomes all one trade.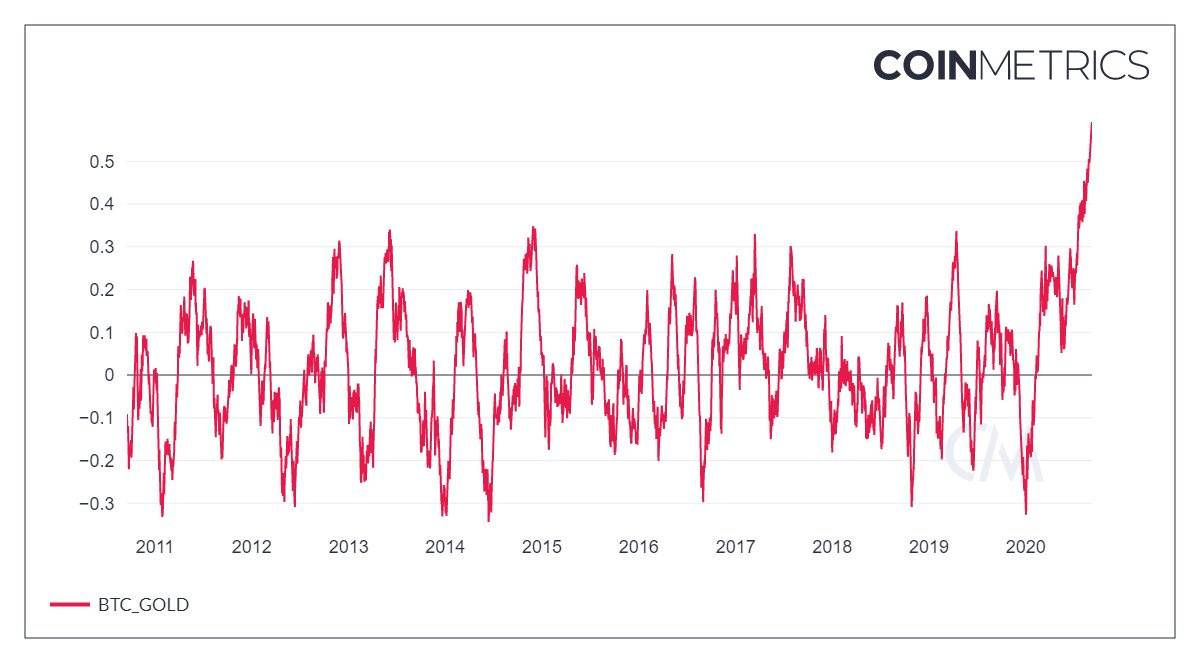 Risk-On / Risk-Off
This leads to thoughts on risk. The term "risk-off" is often used by financial media regurgitating what they are hearing from investors and traders. Investors and traders respond to risk-off in different ways. During risk-off environments, Traders, more specifically algos and HFT's, are often forced to sell a percentage of most of the assets they hold because of the leverage and risk-parity investing they follow. The algo's are all connected to trading platforms across various asset classes of the obvious traditional stocks but also to digital asset exchanges through APIs. Because Bitcoin has established itself as a legitimate global risk asset and investors are converging on the store-of-value/inflation theme, when capital markets move into an aggressive risk-off state, Bitcoin and digital assets are no longer spared. This was the case in March, and similarly at the beginning of September when the market sold off.
As an investor the response to risk-off is different. Weak handed investors sell, while the majority hold, absorbing paper losses while waiting for the market to come back. The strongest and boldest of hands, use volatility as their friend, using fear and sell-offs to invest more and accumulate at better prices. In the last bull market, it was common for Bitcoin to endure 20-30% pullbacks. We expect this to be common over the upcoming run. Holding tight during moves like this and not being duration-dependent is key. Having capital to deploy or a plan to dollar-cost average in works extremely well in these situations.
Paypal/Venmo Moves to Offer Bitcoin
PayPal and Venmo announced that it would offer direct sales of Bitcoin and other digital assets was topline news two months ago that is worth discussing due to its imminent launch and significance. Bitcoin sales on PayPal and Venmo are speculated to happen in a month. With Square's CashApp, Robinhood, Revolut continuing to see record growth from Bitcoin sales, it would almost seem fiscally irresponsible for PayPal not to incorporate Bitcoin and Digital Assets within its business model and compete for fees. When(not if) it does, it would represent a stunning 180-degree about-face for a company who's CEO Bill Harris, labeled Bitcoin as "the greatest scam in history," while claiming that it's simply a mechanism to transfer wealth from the ill-informed to internet scammers."
PayPal was one of the first electronic payment platforms, and as of Q1 2020 had 325 million active users. Venmo has 50mm users. When it comes to wider adoption and the path to the vaunted Trillion dollar market cap, 375mm users with access to buy and sell Bitcoin is a very big deal. Putting that number into perspective in terms of scarcity and supply/demand, there simply is not enough Bitcoin. If each Paypal/Venmo user wanted Bitcoin, they would only be able to buy a measly .05 BTC or 1/20th of 1 Bitcoin! My plan for when they roll it out will be to convert my spare cash in those platforms into Bitcoin. What will be yours and what do you think others will do?
News & Highlights:
Links:
This is an absolutely terrific read on Bitcoin and how it is different than the monetary/financial system that we are subjected to today authored by Yassine Elmandjra from ARK Invest in conjunction with the team from Coin Metrics. It's a long but excellent 30-minute read that concisely lays out the advantages of Bitcoin when compared to the incumbent system.
They define four economic assurances that any monetary/financial system should aim to provide their users:
Value should be exchanged freely and globally

Wealth should be owned wholly and protected

Rules should be enforced reliably and predictably

Integrity of the system should be verifiable
I highly recommend that you read this piece and share it with anyone you know who may be interested in learning more about Bitcoin. This is a high quality first stepping stone that does a great job of clearly describing Bitcoin's value prop by juxtaposing it to the current dominant monetary/financial system. Individuals can only begin to identify where the traditional system falls short when they truly understand the assurances these systems should provide.
Final Note: It's Still Very Early in the Adoption Process
If I were to make an analogy of where Bitcoin is in the adoption process, I would say we are still in batting practice or maybe the top of the 1st inning. With only .3% of global adoption and given it's potential to capture addressable markets such as Store of Value (Gold ~$10 Trillion) and Broad Money (~$80 Trillion), Bitcoin has risk/reward profile that is inherently skewed to the upside.
One must consider the risks and ask what is the real risk??
Is the risk owning Bitcoin or is the real risk, not owning Bitcoin at all?
Invest with DAiM
If you are interested in investing in Bitcoin and digital assets while earning positive cash flow (and potentially tax-deferred or tax-free returns) while waiting for the massive call option on Bitcoin becoming a recognized form of global money to play out, you can contact us below to schedule a consultation to evaluate your options:
Or if you a ready to go and want to get moving quickly you can start an account by filling out our new client profile:
---
Spread the Word 🗣
If you know anyone interested in ₿itcoin, that might want to keep up on the news, learn or stay in the loop, please share this newsletter with them. I appreciate your support.